Famous tree cake. Delicate Korycin cheese. Golden and crispy potato cake. The secret of Podlaskie cuisine boils down to simplicity, fresh ingredients, and a multinational mix of culinary traditions passed with love over many generations. To help you plan your culinary journey well, here is a list of 5 dishes that you simply have to try while in Podlaskie.
START WITH A BREAKFAST IN KORYCIN
KORYCIN CHEESE
Soft, elastic, slightly moist. Traditional Korycin cheese is made from raw cow milk, and tastes best in the open air. Its taste might be delicate, slightly sour or more hot. Natural or with the addition of spices and herbs. It is left to ripen slowly, even for up to 2 weeks, getting richer and richer with new flavour notes every day.
STOP FOR A SNACK IN KRUSZYNIANY
Pierekaczewnik
An icon of Tatar cuisine, pierekaczewnik owes its name to the Russian word meaning to "roll out", which depicts its preparation process. This mouthwatering pastry is made from several thin layers of dough stuffed with meat or sweet filling. Baked in Tartar families for hundreds of years, it is crunchy on the top and springy inside, resembling a shape of a snail shell.

Delicious yet labour-intensive. It is said to be easier eaten than prepared. So, when visiting Kruszyniany (Tatarska Jurta) or Bohoniki, do not miss this unique opportunity and try its rich taste.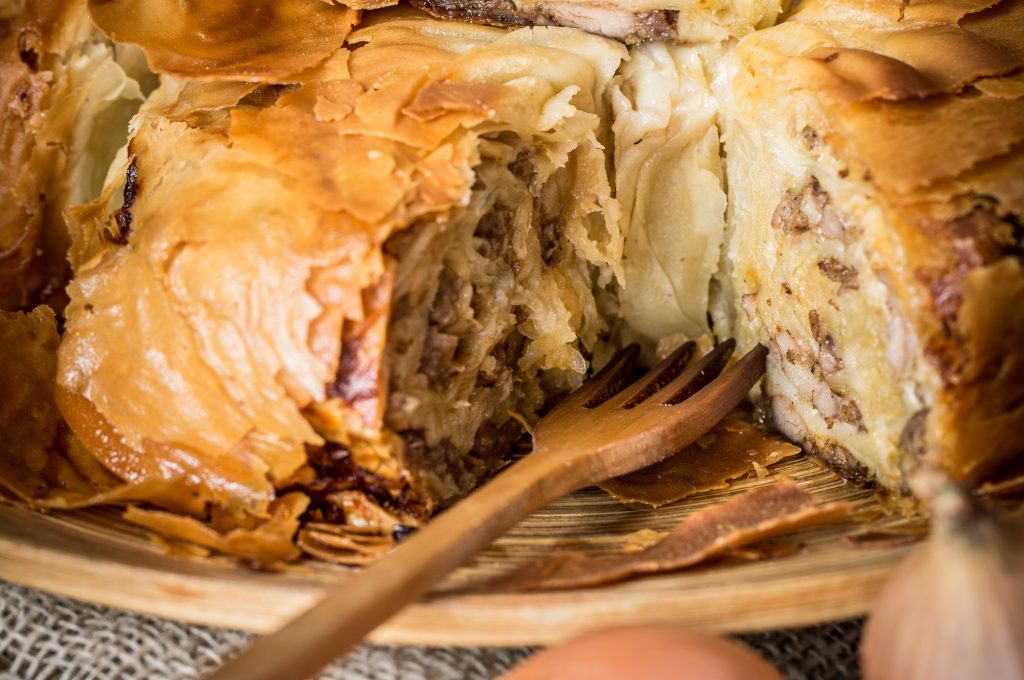 PLAN YOUR LUNCH IN SUWAŁKI
Kartacze
On your culinary journey through Podlaskie, plan a longer stop in Suwałki and its surroundings. This is the realm of the legendary kartacze, known as zeppelins in Lithuania. They look like bigger slightly darker potato dumplings stuffed with minced meat. Its dough, however, is made purely from potatoes without any addition of flour. Usually served with pork scratchings, they are heavy, firm and quite stodgy.
After lunch, have some rest amid the fairytale landscapes of the Suwałki District.
ENJOY A DESSERT IN THE SUWAŁKI DISTRICT
Tree cake
Legend has it, that Queen Bona, delighted by the taste of the tree cake, had it specially prepared for her son's wedding. Today it is difficult to imagine a wedding in Podlaskie without one. Lofty and massive, it resembles a cut tree trunk.
Tree cake is made from biscuit dough, which is poured over on open fire and gradually forms spiky knots, revealing rings of multiple layers when cut. Slightly moist and crusty at the same time, it stays fresh for a long time. You can easily enjoy it for several weeks.
Dinner in Supraśl
Potato pie
One of the "classics" of Podlaskie cuisine and a popular everyday dish, which never goes out of style. Delightful with its mouthwatering aroma and amazing crust. Crispy on the top and delicate inside. Usually served with cabbage salad, low-salt cucumbers, cream or sour milk. It tastes great both immediately after preparation or the day after – cut into slices and fried.
For the best potato pie head to Supraśl, which hosts the annual world championships in potato pie cooking.
Learn more about the flavours of Podlaskie as well as the region's multicultural cuisine and check out where to eat at www.podlaskiszlakkulinarny.pl