Poles of Tatar origin, as they call themselves. Living here for several hundred years, since 16th century to be more precise, when they were granted lands by the Polish King Jan III Sobieski. Located in the eastern reaches of Podlaskie, Kruszyniany is one of the Tatar villages in the region. 

Today, several Tatar families live here, sticking to the traditions of their ancestors. When touring the region, you must not miss this one-of-a-kind attraction.
MOSQUE IN KRUSZYNIANY
CENTRE OF THE TATAR TRAIL
Wooden and green, looks similar to a Catholic or Orthodox church. Go inside, take off your shoes. You will be greeted by Dżemil Gembicki, a tour guide. Listen to his stories about Tatar traditions, religion and the village itself. It is here where the Muslims, Orthodox and Catholics have been living together side by side, making the most of this creative cultural diversity.

Note: if you plan to visit the mosque in autumn or winter, be sure to call the guide in advance and make an appointment (phone no. +48 502 543 871). In summer, there is no need for appointments. You are welcome at any time.
Mizar
MUSLIM CEMETERY
Just behind the mosque, hidden among ancient trees, lies a mizar – Muslim cemetery. Take a stroll among the graves. With some of the oldest graves being several hundred years old, this is an eerie place where the past and present intertwine. Many gravestones are engraved with characteristic Tatar names – Mustafa, Selim or Dżemila, as well as Koran verses and the Islamic star and crescent symbol.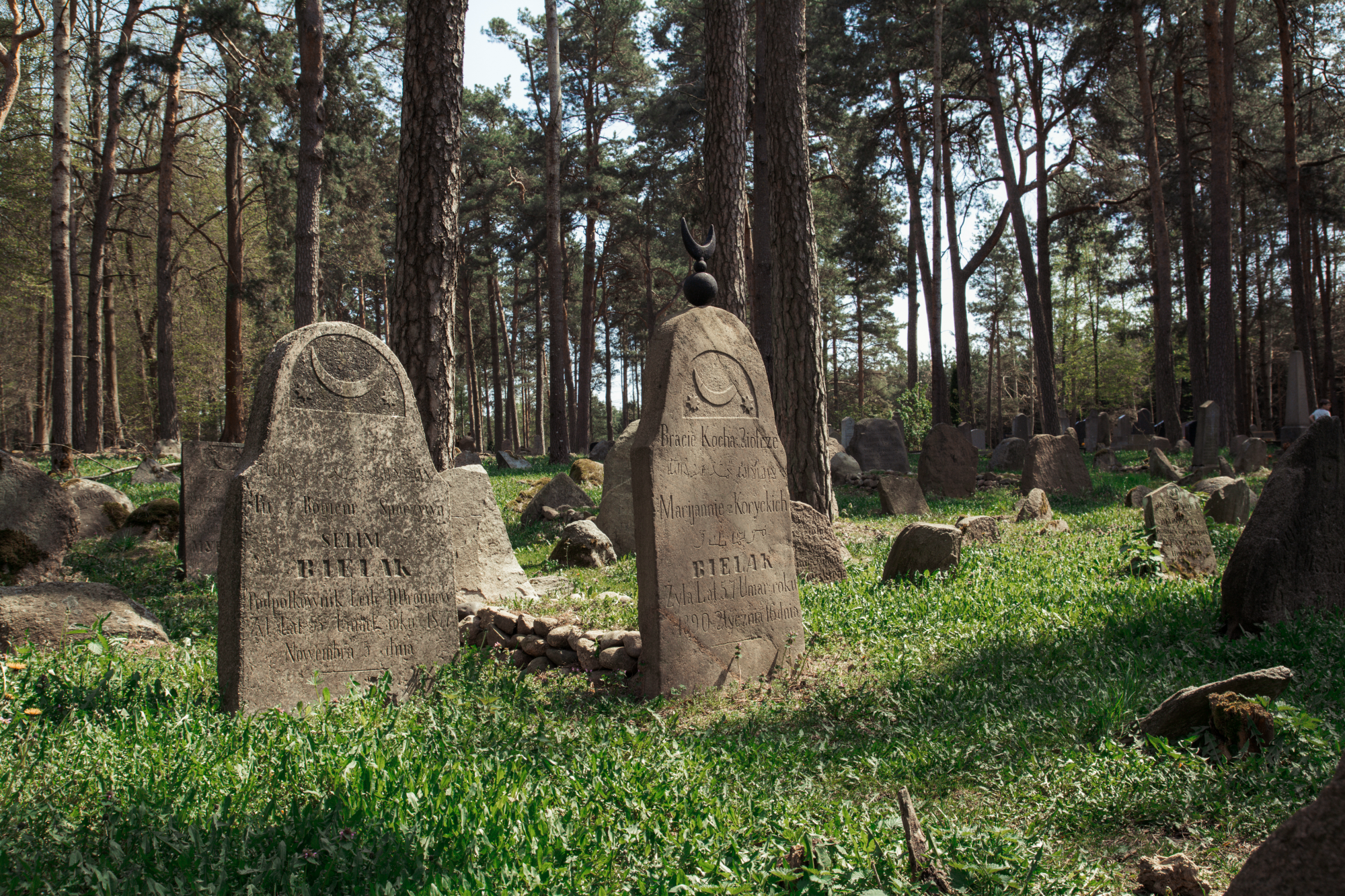 Tatarska Jurta
ORIGINAL TATAR CUISINE
Kilka Located just a few steps away from the mosque, Tatarska Jurta is one of the best-known restaurants in the region. Run by Dżenneta Bogdanowicz and her family for many years. Visited by famous guests, e.g. the Prince of Wales. Thanks to the openness and kindness of the host, everyone here feels like a special guest.
Be sure to try the famous pierekaczewnik, taste mantas rays and indulge in the sweetness of the leaf cake. You will surely come back here again!
SABANTUY FESTIVAL
NATIONAL FESTIVAL OF TATAR CULTURE
Every year in August, the village of Kruszyniany resounds with music and vibrates with dances. Various artists, chefs, and guests from all over the world come here to celebrate Sabantuy – the Tatar Feast of the Plough.
Take part in a colourful parade, watch the culinary contest, admire the performances and taste a wealth of delicious dishes. Sabantuy is a unique event – full of joy and good vibes. Visit Kruszyniany in August and let get carried away by tremendous Tatar fun.

HORSE ARCHERS
SPECTACULAR TATAR TRADITION
Horseback archery is an important element of Tatar tradition. Today, these unique skills are cultivated by the AMM Archery group. Having won several championships and broken dozens of records, Anna Sokólska, the pride of the team, is the best woman horseback archer in Poland and one of the best in the world.

In Podlaskie, you can watch horseback archery shows and international competitions or take part in archery workshops. The Sabantuy Feast in Kruszyniany is just one of the occasions. AMM Archery promotes both mounted and standing archery as a splendid outdoor activity and great fun for the whole family. You can find more information on AMM Archery events at www.ammarchery.pl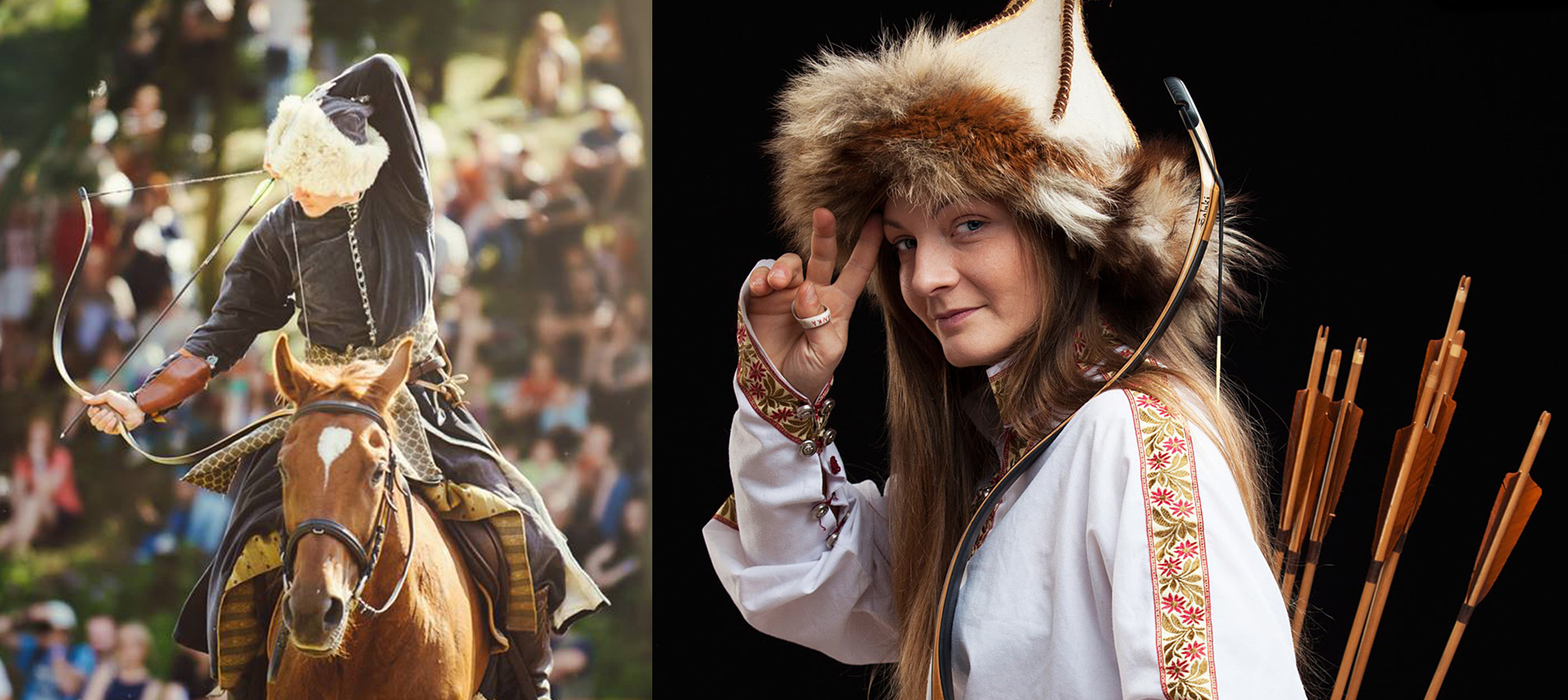 KRUSZYNIANY AND ITS SURROUNDINGS
BOHONIKI AND THE KNYSZYN PRIMAEVAL FOREST
Just a 30-minute-drive away from Kruszyniany, lies another Tatar village – Bohoniki. Here, you can visit a small, wooden mosque and a mizar – Muslim cemetery.

Kruszyniany is surrounded by the picturesque Knyszyn Primaeval Forest, crossed by a network of cycling and hiking routes. If you plan on a longer stay in the area, do hit the stunning forest trails. If you are travelling with children, be sure not to miss the nearby Silvarium in Poczopek.